Dear Friends,
We are about to celebrate the 3,334th anniversary of the giving of the Torah on Mt. Sinai. With each passing year the Torah is given to us anew on an even higher level. May we all receive the Torah joyfully and internalize its teachings.
Please join us this year for a life changing 72 hour celebration. Just as at Sinai every single Jew was present, so too let's make sure this year that no Jew will be left behind. We personally invite every Jewish man, woman, child and even infant on the Upper East Side to join us in hearing the Ten Commandments and proclaiming Na'aseh V'Nishma, we will do and we will listen.
Please share the many Holiday events with your family and friends. Looking forward to celebrating together!
Shabbat Shalom and Chag Sameach,
Rabbi Ben Tzion and Chanie Krasnianski and family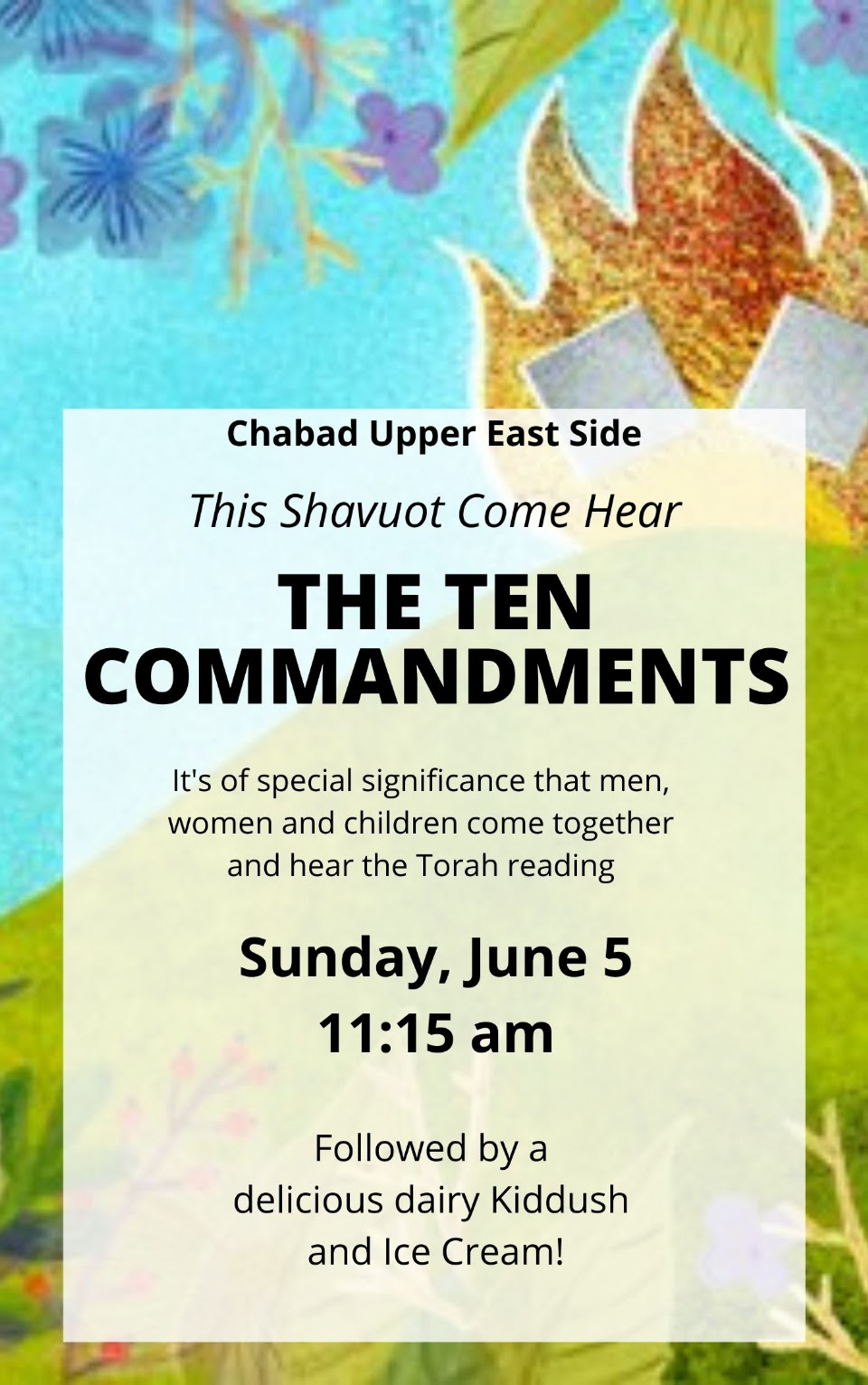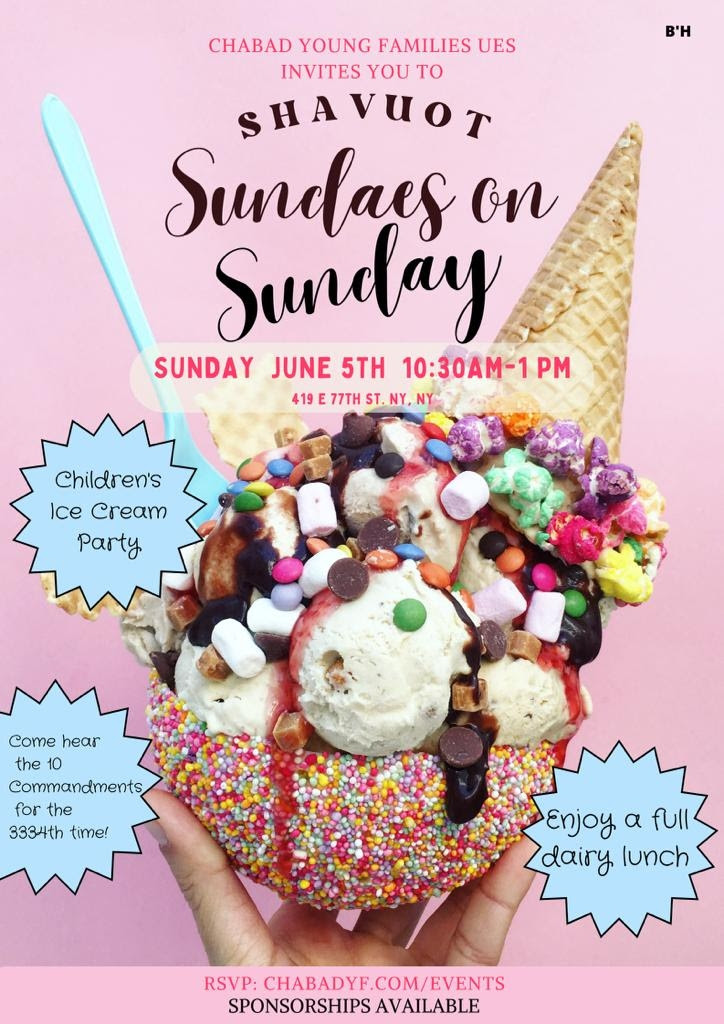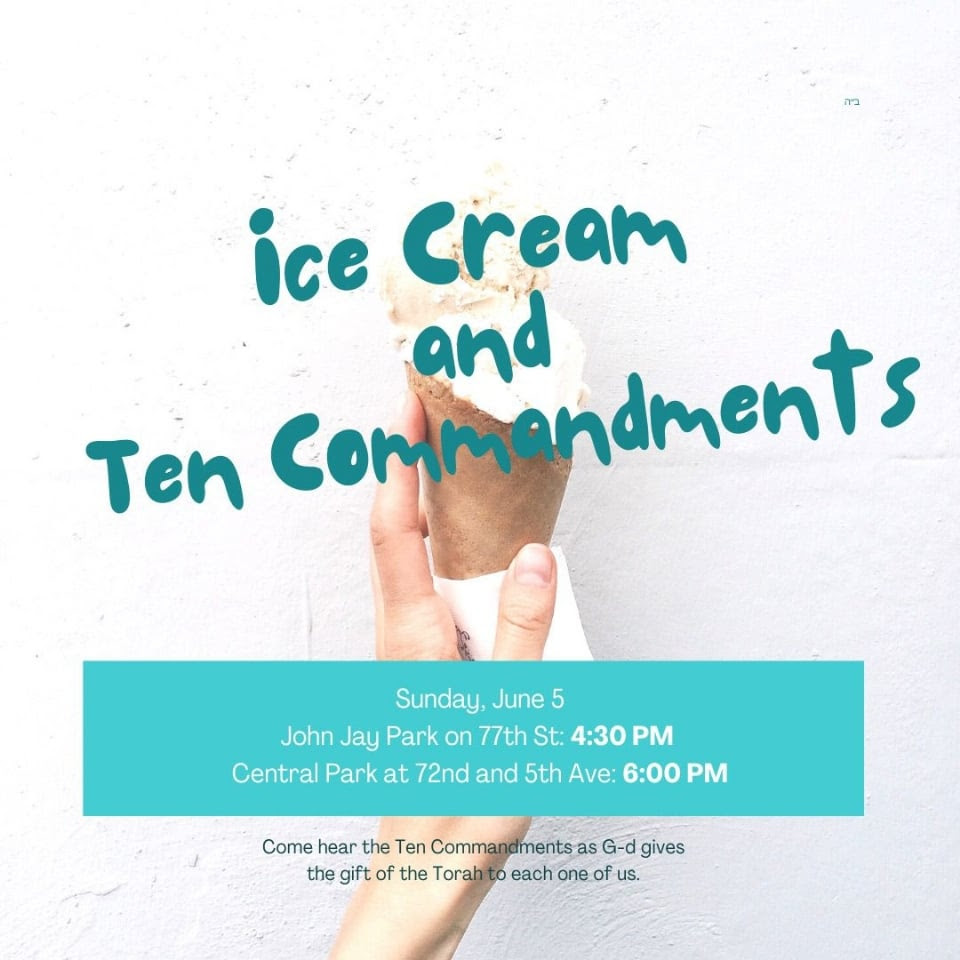 _______________________________________________________
 SHABBAT /SHAVUOT FULL SCHEDULE
All events are at 419 East 77th Street unless otherwise specified.
(Times specified are for NYC)
Friday night, June 3
Before Shabbat, make sure to light your pre exisiting flame and set up whatever you need for the Holiday of Shavuot which begins Saturday night.
Shabbat Candle lighting 8:04 pm
Mincha / Maariv 8:15 pm
Shabbat Day, June 4
9:00 am Chassidus
9:30 am Services
10:30 am Reading of the Torah accompanied by penetrating chassidic insights and it's relevance to our daily lives.
Followed by Grand Kiddush
Mincha 1:45 pm
Saturday night, Motzei Shabbat, June 4
Maariv 9:00 pm
Holiday Candle lighting after 9:12 pm from a pre-exiting flame
Followed by Holiday Dinner RSVP
All night learning 11:30 pm - 3:30 am with open Tea Room
Sunday, June 5 - Shavuot Day
9:30 am Services
10:30 am Children's Program and Party
Reading of the Ten Commandments approximately 11:15 am
Men, Women and Children come and hear the Reading of the Ten Commandments!
Followed by a Grand Dairy Kiddush and Ice Cream Party for all!
In addition we will be having Torah Reading of the Ten Commandments in the Park
Sunday, June 5
John Jay Park @ 77th street 4:30 pm
Central Part at 72nd and 5th Avenue 6:00 pm
Sunday Evening, June 5:
 Mincha/Maariv 8:00 pm
Holiday Candle lighting 9:13 pm from a pre existing flame
Monday, June 6 - 2nd Day Shavuot
9:30 am Services
Yizkor approximately 11:45 am
Followed by Grand Kiddush   in honor of
Rochel and Elazar Greenberg and Family
We want to wish the Greenberg family tremedous blessings and success on their upcoming move. We are eternally grateful for the dedication and hard work Rochel has shown to the women of our community and our beautiful Mikvah. We will truly miss you. Your impact was beyond words!
 Mincha 7:00 pm
Followed by Farbrengen
Maariv and Havdalah
Holiday Ends 9:14 pm